Em uma transmissão de 48 horas a aniplex liberou o segundo trailer da saga Fate/Grand Order The Movie Divine Realm of the Round Table: Camelot (Fate/Grand Order Shinsei Entaku Ryōiki Camelot). Além disso, liberou mais detalhes sobre os dubladores.
Maaya Sakamoto como Leonardo da Vinci
Ayako Kawasumi como Lion King (Arthoria/Atria Lancer)
Takahiro Mizushima como Gawain
Miyuki Sawashiro como Mordred
Ryotaro Okiayu como Lancelot
Kouki Uchiyama como Tristan
Hiroki Yasumoto como Agravain
Takehito Koyasu como Ozymandias (Buwawa)
Minami Tanaka como Nitocris
Mikako Komatsu como Xuanzang Sanzang
Satoshi Tsuruoka como Arash (STELLAAAAA)
Tetsu Inada como Hassan of the Cursed Arm
Sayaka Senbongi como Hassan of Serenity
Kenichi Suzumura como Romani Archaman
Mamoru Miyano como Bedivere
Nobunaga Shimazaki como Ritsuka Fujimaru (Mashita)
Rie Takahashi como Mash Kyrielight (Melhor kouhai)
Maaya Sakamoto canta para o primeiro filme, e Mamoru Miyano canta para o segundo filme. Sakamoto também escreveu as letras para a música de Miyano.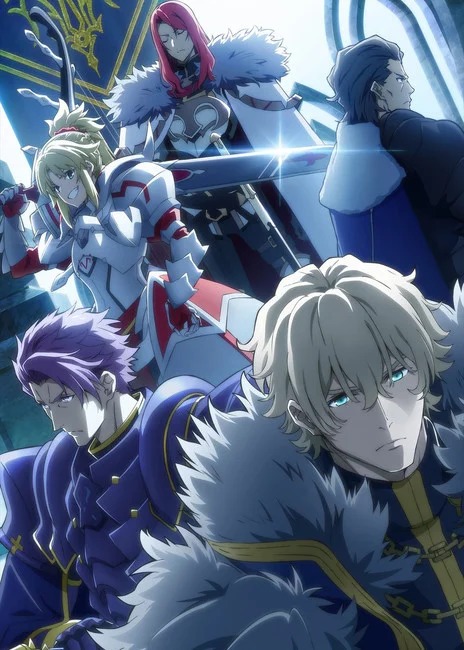 A estreia do segundo filme Wandering: Agateram and Paladin: Agateram está marcada para 15 de agosto.
Kei Suezawa (FLCL Progressive) está dirigindo o primeiro filme, e Kazuto Arai (FLCL Progressive) responsável pela direção do segundo. Production I.G é a produtora do projeto, mas a Signal.MD está responsável por animar o primeiro filme, e Production I.G está animando o segundo filme.